The Best Place for Water Rafting?
Each spring, gravity and sunshine draw Rocky Mountains beloved winter snow down from the high county and into Colorado rivers for some of the county's most amazing whitewater rafting adventures.
Whitewater is formed when water tumbles and falls, becoming aerated, or infused with air making. The bubbles of air have the effect of turning the water white.
Colorado rafting trips begin each spring and fit people of nearly all ages and abilities, with trips ranging from just a few hours to multi-day adventures.
We're highlighting some of the most popular and best rivers for whitewater rafting in Colorado.
Arkansas River (cities: Buena Vista, Salida, Cañon City)

Cutting through central Colorado canyons and dropping 5,000 feet in the first 125 miles, the Arkansas is one of the nation's most popular rafting rivers. From scenic and family-friendly Browns Canyon National Monument to boat-rocking Bighorn Sheep Canyon and Royal Gorge stretches, the Arkansas runs through beautiful geologic landscapes.
Clear Creek (city: Idaho Springs)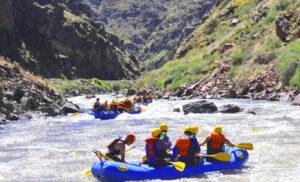 Idaho Springs offers an exciting rafting opportunity closest to the Metro.
Clear Creek is located in Idaho Springs, a historic former mining town, only an hour from Denver. Clear Creek is the steepest river in the state that's commercially rafted. It flows through a narrow canyon within Clear Creek Canyon, shaping numerous technical rapids and steep drops. You'll never know it from the highway, but this river features a wild ride. 80% of the county is public lands, so nature and wildlife are always present.
Half- and full-day excursions satisfy those looking for a true advanced drafting experience or families seeking a quick splash of scenic whitewater.
Colorado River (cities: Glenwood Springs, Grand Junction, Kremmling, Breckenridge, State Bridge)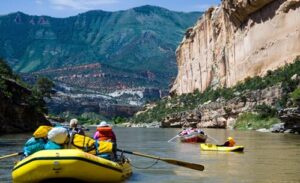 The Colorado River, divided by the upper and lower sections, runs a gauntlet of canyons and ravines that provide exquisite sightseeing intermingled within rapids and calms. There are many great sections of the Colorado River to raft, from family friendly trips down Glenwood Canyon near Glenwood Springs, to super gnarly, raging whitewater in Gore Canyon.
Search Available Land in Idaho Springs
#Clearcreekcounty #Colorado #CO #landforsalecolorado #empire #georgetown #idahosprings #silverplume #vacantland #cheaplandfarm#clearcreekwaterdrafting