Explore Park County of Colorado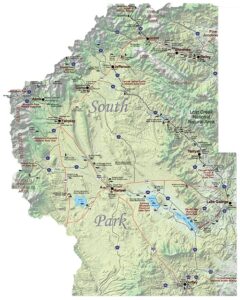 Park County is the geographical center of Colorado.  It is home to some of the largest mines in North America, such as Orphan boy and Sweet home mine.  The county stretches around 50 miles north to south and over 40 miles east to west, making it bigger than the state of Delaware. Park County was named after South Park, which is its largest region by area and was used by early fur traders and trappers.
Park County is situated at an altitude of 7000 to 1400 feet above sea level; the town of Alma is the highest in North America. According to the 2010 census, Park County's population is 16,206. The county seat is Fairplay with a population of 679 residents. The climate of Park County is very versatile and ranges from 70˚ F in summers to -20˚ F in winters with heavy snow.
History of Park County
Park County was the central location of the Gold Rush 1859. In 1806, a beaver trapper from Kentucky named Jim Pursley found the gold flakes and nuggets near the South Park basin, but no one took interest in it. Then in 1859, a boom in the gold seekers occurred when the prospectors found the gold near what is called now the city of Denver. Within a year the population of the area now called Colorado reached up to 30,000, out of which 1/3rd was settled in Park County. Park County was founded on 1st November 1861.
Furthermore, the gold rush gave birth to the silver rush. The people from different places started settling in Park County. The farmers and ranchers started moving to South Park with their animals, which improved the livestock of the County.
Local points of interest:
Whether you are a child or an adult, Park County has so much to offer to everyone. From unique hotels to fancy bars, guest ranches, and heritage museums it is a full value for the money.
Fairplay and Alma are home to some of the best wineries and hotels in Colorado. Whether you select Alma or Fairplay to explore, you'll have many opportunities to sample local wine offerings before the day's end. Even though these towns share a combined population of around 1500 people, they have some eccentric bars for the visitor. Also, several extravagant hotels and ranches are present in both towns, with breathtaking views.
Here is a list of some top bars, hotels, and ranches in Fairplay and Alma.
Continental Divide Winery
Park Bar
Snitching Lady Distillery
South Park Brewery
Hand Hotel Bed & Breakfast
American Safari Ranch
The Western Inn Motel & RV Park
Mountain Comfort Bed & Breakfast
Tarryall River Ranch
Black Tree Resort
Outdoor Activities
Park County became the center of attraction for tourists after the buffalo trails were converted to roads and railway tracks. Hundreds of visitors started visiting the gold county by train, for exploring the breathtaking sites of  the area.
Located to the northwest of the south park, Fairplay is the capital of Park County, with magnificent peaks, rewarding landscapes, flower-covered fairy meadows. The county is also surrounded by some of the most adventurous hiking trails, skiing spots, fishing spots, and camping sites.
Hiking

If you are a thrill-seeker, Park County's hiking trails will give you an adrenaline rush. Fairplay is like a mecca for a hiker from all around the world, with stellar sites.
 The following are some of the most famous hiking trails in Park County.
1)    Wheeler Lake Trail
Located near Alma, wheeler Lake trail offers a unique 7 mile trail that is a gateway to the county's most iconic peaks, for instance, Mt. Lincoln, Mt. Bross, Mt. Quandary, and Mt. Democrat. The trail leads to the site of abandoned mining camp and an alpine lake at its end.
2) Rich Creek trail:
 Covered with majestic trees and lush meadows, The Rich Creek Trail offers access to Buffalo Peaks wilderness. It offers an incredible mountain view. The track is 5 miles and is not very famous among hikers.
3)    Eleven Mile State Park
It is a comparatively easy and only three-mile-long track with stunning views of the surrounding mountains.
4)    Beaver Creek Trail
Named after beaver ponds, the Beaver Creek Trails is located to the north of Fairplay. It is a short and gorgeous hike that shows the golden scenic view of Aspen in the evening.
5)    Goose Creek Trail
The Goose Creek trail passes through immaculate and breathtaking mountain terrain.  Approximately 13 miles long, and moderately challenging the hike passes through the pristine and lush meadows, so beautiful as it feels like it's from a fairytale.
6)    Rainbow Lake Trail
This trail passes through the meadows of Aspen, leading to Rainbow Lake. It is suitable for amateur hikers and families exploring nature with kids. It is located to the north of Fairplay.
7)     Some other famous hiking trails in Park County
 Pika Trail, The Declibron, Mounts Democrat, Cameron, Lincoln, and Bross Trail, Quandary Peak,  Spruce Creek Trail, Colorado Trail at Kenosha Pass, etc.
Fishing
Park County offers a lot of fishing sites for visitors around mountain lakes and streams, as well as, downstream rivers and reservoirs. There are some impressive reservoirs around South Park, including Jefferson Reservoir, Antero Reservoir, Spinney Mountain Reservoir, and Tarryall Reservoir.  The North Fork of the South Platte River provides some of the best trout fishing in the area.
Horseback Riding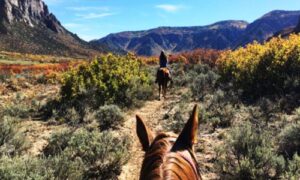 Being a rural and rustic area, visitor can enjoy the wilderness, historic mines, and incredible views following the trails of buffalo.  It is famous for its ranches so horse riding is very common among the people.  Situated to the south of Fairplay a Safari Ranch is present between the Rocky Mountains. You can enjoy horse riding with your family and friends.
If you want to get away from a tiresome and boring routine and need some time to breathe, Park County is at your rescue. It is an ideal place to live with your family as it is surrounded by serene and adventurous sites. Pack your bags and visit Park County with your friends and family!
Check out some of our Park County properties by clicking the button below
#Parkcounty #Colorado #Alma #Bailey #Como #Fairplay #Guffey #Hartsel #Jefferson #LakeGeorge #Shawnee #Coloradolandforsale