Explore Gunnison County, Colorado!
Gunnison County is a historical mountainous county, located in Colorado. The county was named after Captain John W. Gunnison, who was an army engineer. He was one of four topographical engineers assigned to survey the transcontinental railroad, in the year 1853. With a population of around 15,000 people, the county is home to people from various ethnic communities, living in harmony.
Gunnison County is ranked as the fifth largest, in Colorado, with an area of 3,260 square miles. The landscapes and mountain ranges constitute around 1.7 million acres of the area. The famous towns include Gunnison, Crested Butte, Marble, and Pitkin. The town of Gunnison is the capital of Gunnison County, with a population of 6500 residents.
The climate of Gunnison County remains pleasant throughout the year. In summer the temperature rises to an average of 77˚F and in winter it falls as low as -3˚F.
The history of the County goes way back to the native Utes People. Until the 1800's European were unaware of the area. The fur trappers moved to this county in 1813, to collect fur for their businesses, but it was not so easy to get fur in the Rocky Mountains and Wilderness.
In 1860, miners started moving to the area in search of Gold. About this same time, coal was discovered near the site of Schofield. Furthermore, in 1880 agriculture and cattle industry started thriving in Gunnison. It was the railroad that played a crucial role in the prosperity of Gunnison, which was completed shortly after the end of the Civil War.
Things to Do in Gunnison County
Gunnison is surrounded by surreal mountain ranges, rivers, and national parks. The County is the hotspot to enjoy the undeniable beauty of nature. Moreover, the County is home to some amazing restaurants and bars, shopping centers, and historical sites. It is considered one of the best tourist spots in Colorado.
Local points of interest in Gunnison County
Restaurants and Café's
Nothing can be compared to the breakfast and coffee in the cradle of nature. Gunnison County is home to countless breathtaking views, you can enjoy them by sitting in the restaurants and cafés.
If you are in the mood to get the best breakfast and coffee then W café is your go-to place. To enjoy an outdoorsy place in the wilderness, you must try Pappy Restaurant, in Elk Creek Marina having the view of Blue Mesa Lake and Elk Creek Marina.
Attractions and Entertainment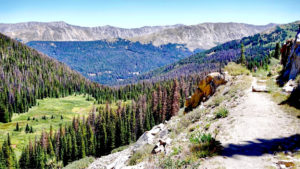 The mountainous valleys of Gunnison County have been inspiring artists from all over the county for centuries. The county has some amazing art centers where everybody is welcomed to showcase their love for nature, for instance, Gunnison Arts Center, Oh Be joyful gallery at crested Butte, etc.
The county is home to many museums and parks, where you can visit and learn about the history of this beautiful county.
Lastly, the finest distilleries of Colorado are present in Gunnison County, such as Montanya distillery and High Alpine brewing company.
Adventurous Outdoor Activities in Gunnison County
Gunnison County is situated in the west-center of Colorado. Thousands of tourists visit Gunnison County every year, to admire the surreal landscapes with breathtaking views.
The county offers countless outdoor activities, such as hiking, mountaineering, rock climbing, skiing, camping fishing, and hunting.
Here are some must-visit places in Gunnison county:
Curecanti National Recreation Area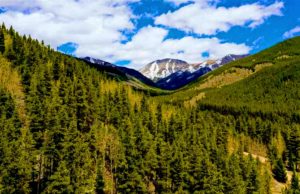 The Gunnison river passes throw Curecanti National Recreation Area. It is home to three reservoirs, Morrow Point, Blue Mesa, and Crystal Reservoir. These reservoirs offer multiple recreational activities like fishing, boating, and camping. Curecanti National Recreation Area is expanded in 42,000 acres and is located right in the heart of the Rocky Mountains. If you are a hiker it is a must-visit place.
Gunnison National Forest
Gunnison National Forest spreads across thousands of acres and is protected by the U.S Forest Service. The forest is full of thrilling hiking trails, to give you an adrenaline rush. Some of the most famous hiking trails of Gunnison National Forest are:
Judd Falls Trail
Snodgrass Mountain Trail
San Luis Summit
Oh-Be-Joyful Trail
Scarp Ridge Trail
Other activities include mountain biking, skiing, fishing, and camping.
Crystal Mill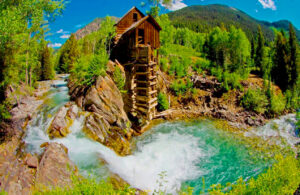 Located about 20 miles east of Marble, Crystal Mill is one of the most photographed landmarks in Colorado. It seems unreal as it is standing since 1892, used to provide ventilation to the Sheep Mountain Mine. It has been registered as a National Historic Site since 1985.
• Other famous tourist spots in Gunnison County:
Some other famous sites are:
Gunnison Pioneer Museum
Gunnison Valley Observatory
Pine Creek
Dillon Pinnacles
Gothic
Cranor Hill Ski Area
Neversink
Curecanti Creek
Fishing Sites in Gunnison County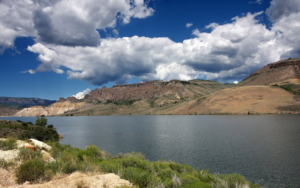 The county has multiple sites for fishing, for instance, Crystal River, Gunnison River, Morrow Point, Blue Mesa, and Crystal Reservoir. You can visit with your families and friends for fishing, camping and enjoy the perks of nature. Gunnison is famous for trout. You can find many species of trout fish, like, rainbow trout, lake trout, brown trout, brook trout, and yellow perch.
Hunting in Gunnison County:
Gunnison County arranges hunting competitions annually, which include big game hunting and small game hunting. You need to get a license before hunting in Gunnison County. Famous places for hunting are West Elk, Crested Butte, Gunnison national forest, etc.
Life in Gunnison County: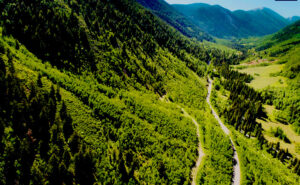 With dreamlike landscapes, quality education, plentiful restaurants, Gunnison County is a great place to live with your family. Locals are welcoming and very friendly. Moreover, the real estate is very affordable in comparison to neighboring counties.
Pack your bags and head towards Gunnison County for an unforgettable experience of life!
Check out some of our Gunnison County properties by clicking the button below
Search Available Gunnison County Properties
#gunnisoncounty #Colorado #CO #landforsalecolorado #gunnison #marble # Crestedbutte #mountcrestedbutte #pitkin